When it comes to gaining a different perspective on a home construction project, it could be said the sky's the limit on what a UAV (aka drone) footage and provide. The number of applications for drone footage are growing. From planning to demonstration of progress, to site inspections, there are a number of applications that could save both time and money. The footage also provides a historic record for reflection and improvement on the next project. This Nordby Effect covers the areas we've identified to be of value for our clients and teams in our experiences with drones on home construction sites.
Drone footage provided by Ted van der Linden.
Planning. Drones can be used to quickly assess a project's site. Rather than utilizing human resources, heavy machinery or other expensive tools that provide aerial footage, it's possible to gain a bird's eye perspective at a fraction of the time and money with greater accuracy. Project managers using 3D laser scanners can utilize a drone to fly over the site, scan the area and provide a surveyor with quality images of the terrain. Data gathered from the home site, also known as an orthomosaic, generates a digital map that offers analysis points as well as a detailed visual representation, which aids in project planning and management.
Reporting Progress. If a client is not able to visit the site on a regular basis during the construction of their home, drone footage is a resourceful way for the client to see first-hand construction progress and provide comments on the footage. Images created with drones can also provide architects and designers with an accurate perspective to aid in planning for any adjacent structures or easements.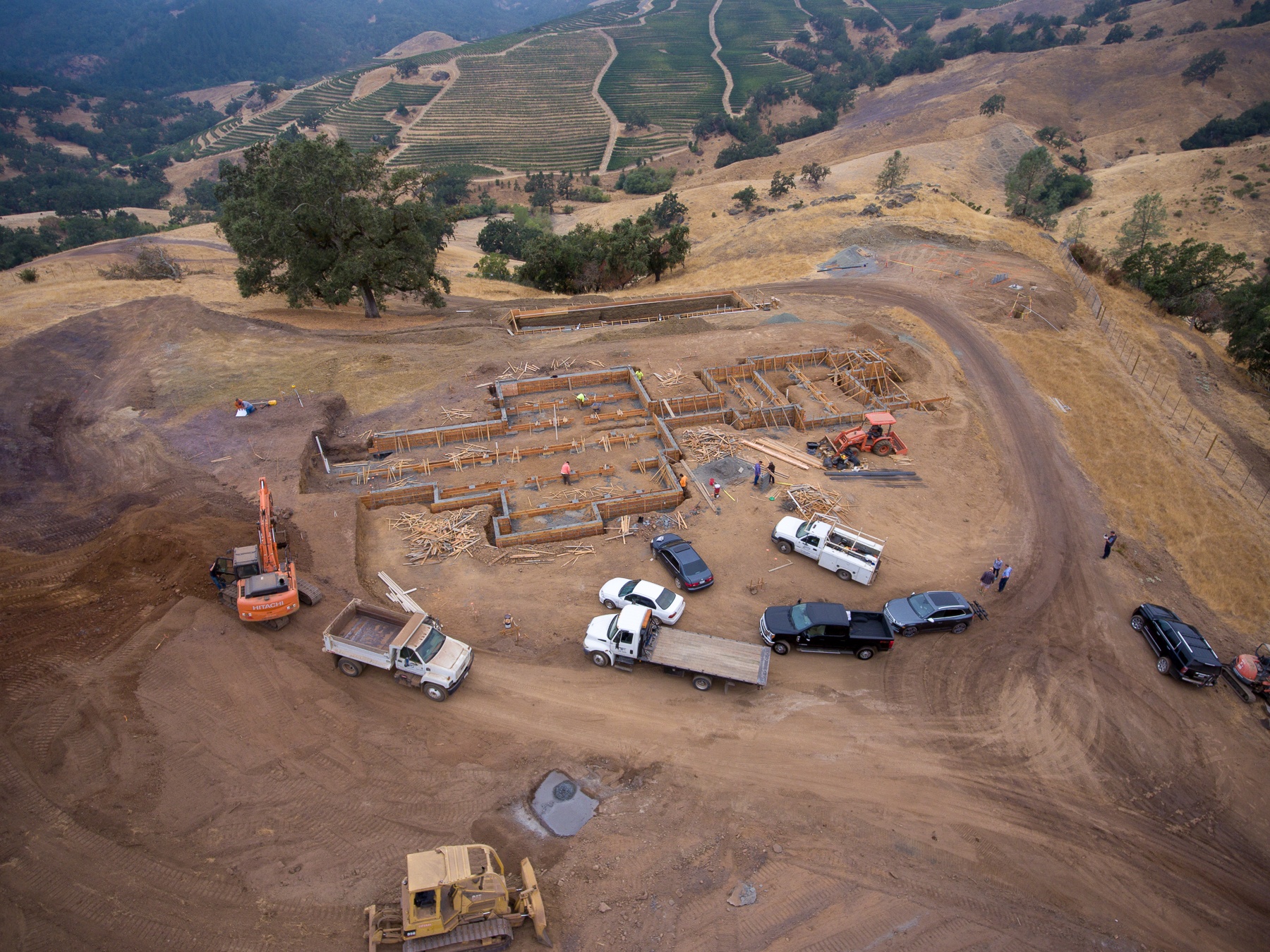 Drone footage provided by Ted van der Linden.
Monitoring Job Sites. Field personnel work on multiple job sites simultaneously. On some days, they may not be able to reach all of their active projects. Utilizing a drone to monitor progress, active work, and site safety is an effective way to stay on top of project tasks without being physically on the job site. On old or historic homes, drones are an effective way to inspect deterioration. Traditional inspection methods would require workers to climb up on a roof or other precarious places with the help of a harness or scaffold. Drones are able to easily reach unsafe areas as well as locations that are a hard to reach by humans. Utilization of drone technologies takes some of the risk out of the equation.
Keeping a Project On Schedule and On Budget. A drone provides project managers with real-time control over the project. Managers can track progress visually and close-out on project activities quicker. This visual data is important for being able to improve work practices and deliver projects more efficiently.
This is an exciting time to be in the building industry. While drones usage is more common in urban settings, new and exciting solutions are being deployed for projects with varying conditions. Drone regulations are continuing to evolve, and more and more construction managers are exploring new and innovative drone practices. Don't be surprised to see a drone buzzing around your neighborhood's new home construction project!
Have you utilized drone technology on a custom home project? What was your experience? Please share your thoughts in the comments section below.