The Wine Country has seen its share of wildfires that have devastated businesses in the region. The areas' wineries, breweries, cideries, and other businesses are looking for fire-proof building materials to prepare for future fire events. Many business owners have turned toward metal buildings. There are many advantages of metal buildings. However, there are disadvantages that need to be addressed. This Nordby Effect highlights 5 areas that need to be carefully considered when specifying a metal building project.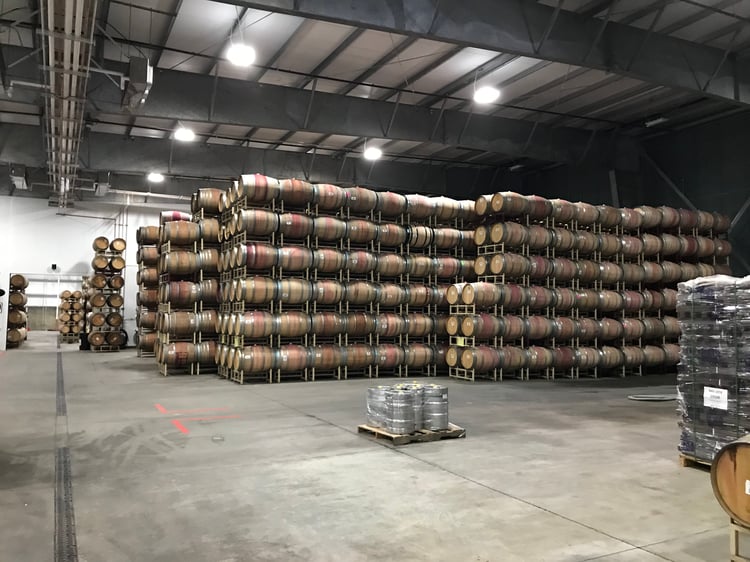 1. Initial Costs are High
Steel is a higher cost than wood, concrete, brick and stone.
Price may increase due to demand in areas recovering from disaster or experiencing a high level of development.
Price may increase due to tariffs.
2. Corrosion
In the presence of moisture, finish will corrode if not protected by galvanization, or epoxy paint.
If metal corrodes, it will weaken over time.
While most steel is galvanized, it may still come in contact with a treatment that coats the outer steel skin with a sacrificial layer of zinc. As corrosive materials come into contact with the coated steel, the zinc will oxidize first. It isn't until the zinc layer is exhausted that the iron will be susceptible to corrosion.
Galvalume steel, coated with an aluminum zinc coating, is less susceptible to moisture. As long as the galvanic layer is intact, the steel is protected.
Special paint coatings also protect against oxidation. While paint may fade or chalk, it will not impact the durability of the metal itself. It is recommended to use an epoxy paint.
As long as coating remains intact, the metal beneath is protected from oxidation.
3. Fire Damage
While less flammable than other materials, if exposed to fire for an extended period of time, it can be weakened with sustained high temperatures.
Steel transfers heat. Flammable materials that come into contact with hot steel will catch fire and cause it to spread, even though the metal itself is not alight.
Additional fireproofing may be required for complete safety. Expanded mineral coatings, concrete and intumescent materials have all been used as fire-resistant barriers. Some fireproof coatings for steel can be quite expensive, adding to the cost of the structure.
To protect steel from heat, it may be embedded in gypsum board or block, masonry block or clay tile to protect it from heat.
4. Fatigue
Steel is susceptible to fatigue. There are variations in tensile strength, causing tension and reducing strength.
Choosing the correct steel during the design is key.
Sourcing steel from a reputable company can reduce the variability in quality within and between steel members.
5. Fabrication
It is not easy to make field corrections if one or more components do not fit properly.
While most manufacturers perform quality assurance processes, that does not totally ensure all parts of the building solution fit correctly, but in the event they do not, there is no way to "make it fit" in the field without introducing the factor of weakness into the structure.
Waiting for a replacement from the manufacturer will result in project schedule delays.
Metal buildings can be an effective way to mitigate the threat of firestorm. However, if the structure does not make the considerations listed above, the intention will be prone to weakness. When it comes to material fatigue, all building materials are vulnerable. In this instance, steel is more durable than wood. There is no construction material that is completely safe. Steel is the closest and the disadvantages are reduced when the risk is considered.
Please contact Tony Simmons to discuss the many advantages that pre-engineered steel buildings can offer.