Digging deep into the cold earth is an attractive proposition for wineries. In most cases, underground environments provide ideal conditions for storing and fermenting wine. The decision to go underground may seem to be easy. However, special considerations need to be made. The following provides 9 things to consider for your next underground project.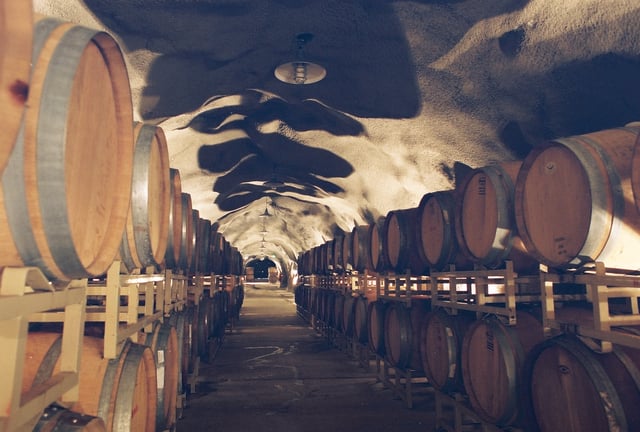 Brown Estate, Wine Cave
Function: One of the first decisions to make when planning for an underground space is to determine how much emphasis will be on functional storage versus entertainment. While some clients fear they will be seen as frivolous, entertainment areas should be considered in all caves – these spaces can easily be integrated into the functional aspects of the cave, and become storage rooms when not being utilized for hospitality purposes.

Size: So what size should your cave be? It really boils down to how you want to use your cave. Early caves featured profiles 13' wide by 10' tall but all discovered that didn't work well for forklift travel and barrel storage maximization. Now, we see spaces that range between 15' and 20' wide for barrel storage and up to 30' wide for fermentation.
Stability: What keeps the cave from collapsing? Engineers analyze the soil characteristics and cave shape to determine the type of structural liner required. Typically the liner is comprised of shotcrete – between 4" and 12" thick – reinforced with layers of welded wire fabric and/or conventional rebar. What about earthquakes? Caves are among the strongest structures during seismic events. We always tell our clients that their caves are the safest places to be during an earthquake.
Utility Systems: Wine cave operations have commercial system requirements. Building systems that need to be considered at the planning phase include: hot and cold domestic water, Glycol, electric power, lighting, sound and water features, battery emergency power, compressed gas systems, communications and radio relays, automatic ventilation, and automated sensors and climate controls.

Climate Control: Some of the appeal with underground spaces is natural climate control. However, underground spaces may not manage climate all by themselves. The underground space will have doors, air supplies, exhausts, and warm spots that can divide the space into different temperature-humidity zones. It is important to be able to fine-tune the space for its function, i.e. fermentation, barrel storage, etc. Air movement is critical for cleanliness and winemaking.

Lighting: Lighting is a key consideration since most underground spaces have no natural light. The function of the space is a helpful guide for the lighting decisions. For example, functional spaces with barrel storage may require bright lighting where fixtures are equipped with LED bulbs that are controlled by motion sensors or programmable switches. Conversely, entertainment fixtures have a "warmer" feel and may be a way to reinforce a certain style or brand depending on how the space is being used. Either way, wine caves require lighting decisions.
Waterproofing: Don't become a victim of water spots or water seepage. It is important to make sure that you work through waterproofing details for your cave's interiors. To mitigate moisture, we install prefabrication drainage strips at regular intervals between the native ground and the shotcrete liner. The drain strips relieve the hydrostatic pressure, but may little effect on wet spots and water seeps. Hydrophyllic admixtures have been used for many years to mitigate seepage, either as a shotcrete admixture or spray applied, with relatively good success. Where excessive groundwater is present, membranes placed between successive shotcrete layers have been used. Many new products, including admixtures and membranes, are being evaluated and tested to improve moisture conditions.

Safety: Construction of underground spaces can be a dangerous proposition if not handled by a professional. Hazards unique to underground spaces include reduced natural lighting, ventilation, limited access and egress, exposure to contaminants, fire and explosion. Make sure you are working with an experienced wine cave builder who can excavate your cave safely.
Maintenance: During crush season, no one is really thinking about their wine cave as it tends to serve storage and fermentation purposes. However, once crush comes to a close, your wine cave needs to be in proper shape to house this year's harvest and upcoming events. Crush season is the perfect to time to make sure your wine cave systems are running properly. Hire an experienced wine cave contractor to ensure your wine cave is ready to perform.
There is a lot to consider before you begin designing and planning an underground space. Did you find this post helpful? Please share your thoughts with us in the comments section below.