When it comes to restaurant design and construction projects, it's not Shane McAnelly's first rodeo. As the executive chef of Chalkboard in Healdsburg, Shane has a good sense of what is required to design and build restaurant spaces. With the prospect of opening another local restaurant on the horizon, Shane was very hands-on throughout all project phases of Brass Rabbit.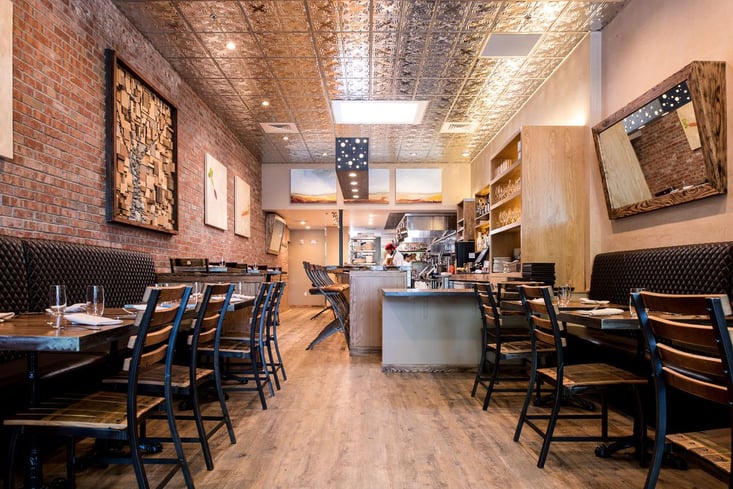 The Brass Rabbit is a 1700sf space, 14' wide by 19' long, consisting of a 40-seat dining room with bars and tables and 8 outdoor seats. The interior is comprised of exposed brick walls, a shiny tin ceiling, oak wood furnishings, quilted black leather booths, and, notably, brass rabbit heads adorn the wall. The kitchen is equipped with an Argentinian-style wood-fire grill, a restaurant centerpiece. Art from Bradford and Brenner and Seth Richardson is featured in the dining room.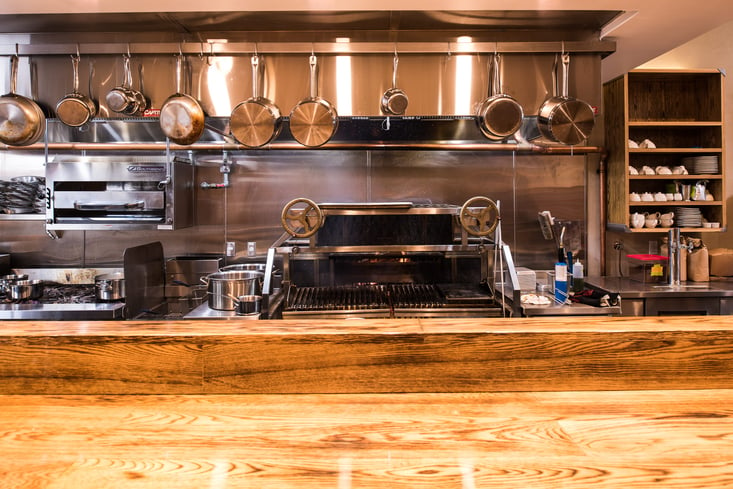 Like most restaurant projects, the Brass Rabbit timelines needed to be carefully planned and managed. It was essential to effectively budget for the time and effort that it would take to construct the restaurant. Once Shane identified the space, he drafted his ideas. When he had a sense of the direction, he engaged Chuck Peterson Architects and Nordby Construction Company to get a clear picture on design, schedule, permitting, and construction.
From initial sketches to building permit application, it can take several weeks to many months to open a restaurant, depending the complexity of the project. There are several submittals that need to be processed before technical documents are prepared for building permit application. It is important to never underestimate the consequences of the schedule. Even the most experienced team can fall victim to what cannot be seen…and so begins the tale of Brass Rabbit.
General Contractors always strive to be on time and on budget. Unfortunately, builders can be subjected to unforeseen conditions that ultimately impact the schedule and budget. Brass Rabbit was no exception to this rule. Tony Simmons, President at Nordby Construction Company explains, "Brass Rabbit started as a tenant improvement and ended up requiring a complete gut of the interior space – we had to replace everything." The Brass Rabbit's interior space, located within a building originally built in the late 1800s, had many unforeseen conditions or as Shane McAnelly aptly describes, "The building was a Pandora's box."
Permitting for restaurants can be complicated. Restaurant projects require a building permit, health approvals, liquor licensing, patio dining approvals, etc. In this case, what was supposed to be a simple tenant improvement turned into a much more complicated project, taking 4 months from the time of application to when a building permit was issued. Due to the building's age, the City required a new grease interceptor, new sewer lines, new water service and lines, new electrical service and distribution, new fire sprinklers, new roof framing, new roofing, new concrete slabs, new gas service and lines, and sidewalk replacement to meet ADA compliance. As a result of the City's review, the required project upgrades added 2 months to the overall building construction schedule. The dramatic increase in scope pushed out the schedule, required the construction crew to work through the winter season, which included demolition and construction of a new roof.
Ideally, the construction schedule should factor in time for staff training, operations testing and clean-up prior to opening to the public. There should be an additional cushion for possible hurdles. An ideal time should be between 2 to 3 weeks. Ultimately, the tenant needs Health Department, Fire Department, Planning, Sewer & Water and Building Department Final occupancy prior to opening.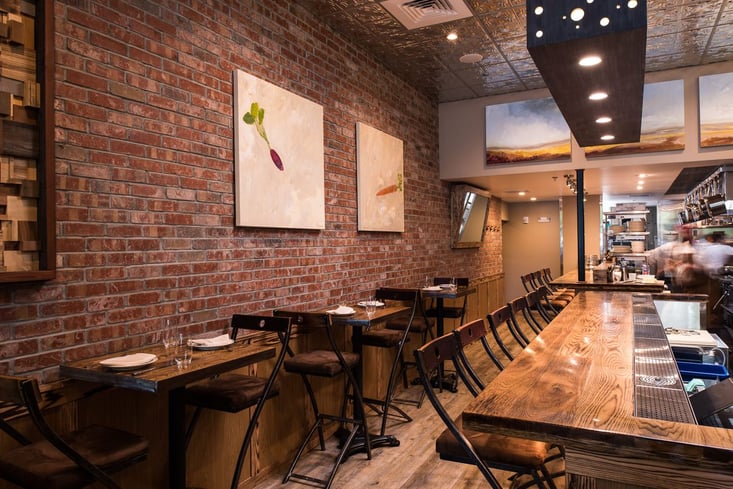 Today, the Brass Rabbit is enjoying their third month of operation. The space is small and intimate effectively setting the mood for the style of food. When asked about his favorite aspects of the space, Chef Shane says, "I really like the grill and the space. A small restaurant encourages me to get out and talk to the guests. I can see everyone from the kitchen." There is a bar area and chef's counter. The restaurant's menu consists of heartier fare, mostly touched by fire. Patrons can expect dishes like Grilled Rib Eye, Lamb Wellington, and Peking Duck L'orange. In addition to the area's world-renowned wine, the bar serves of classic cocktails with a special section for martinis with options for foie gras-stuffed olives. The Brass Rabbit is located at 109 Plaza Street in Healdsburg and open daily for dinner from 5:30 PM to 10:00 PM.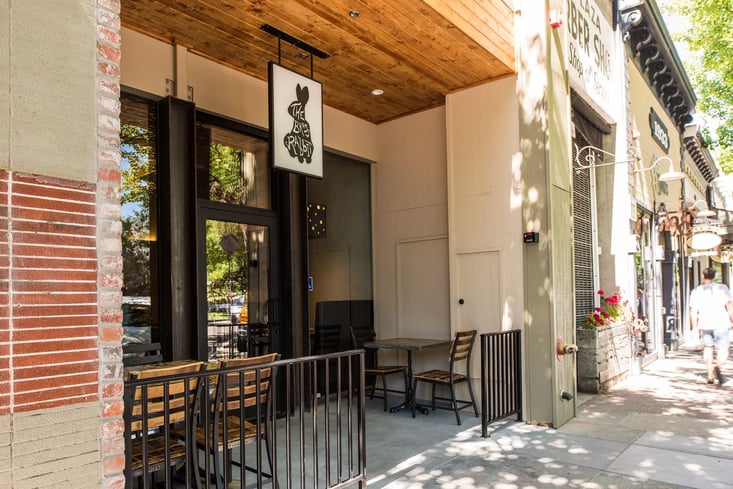 All new restaurants require time to effectively plan, design and build. As in the case of Brass Rabbit, it is essential factor in time and money for unforeseen conditions. It is even more critical to engage a reputable architect and builder early to set expectations and realistic deliverables. Preconstruction planning is essential in this process and Nordby's leadership ability in this position has been key in having a successful project.
Did you enjoy this story? Do you have your own restaurant project story? Share your thoughts with us in the comments section below.