If you've visited the Brown Estate Winery, you know that it is a worthwhile trek. Unfortunately, the winery's remote location does not make it easily accessible to all visitors. Very aware of the situation, the Brown Estate Winery did not want to turn anyone away and found the best way to solve the problem was to provide a more centralized Napa destination to offer wine tastings as well as a more convenient location for patrons, visitors and employees. This Nordby Effect post discusses the new Brown Estate Tasting Room, an urban wine oasis located in downtown Napa.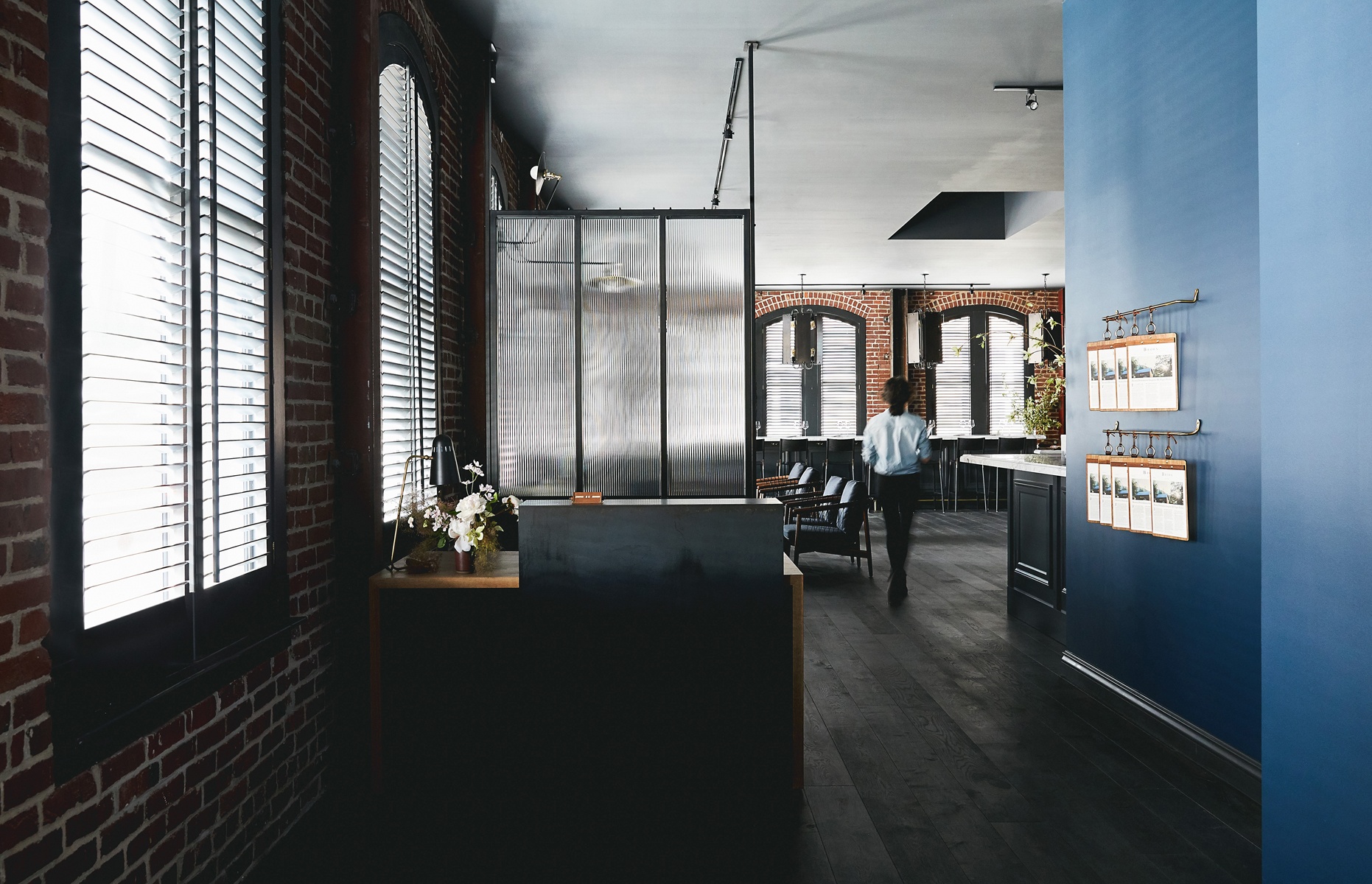 Photography by Aubrie Pick
The story behind Brown Estate goes back to an initial investment in a remote ranch made by Bassett and Marcela Brown in 1980. The ranch consisted of two historic structures, a barn, built in 1859, and house, built in 1885, on 500 acres. Together, the couple, driven by a strong work ethic, planted zinfandel vines and sold the fruit to winemakers. Over the years, the couple and their young family learned a lot about the land, including their love of it. Ultimately, the family's experiences led Bassett and Marcela's children to discover that they wanted to try their hand at winemaking in 1996. Today, the three siblings, sisters Deneen and Coral Brown and winemaker, David Brown, run the Brown Estate, building on their parent's legacy. While the winery is best known as one of the region's most well-regarded zinfandel producers, it's also important to mention, the Brown Estate is the first black-owned estate winery in the Napa Valley.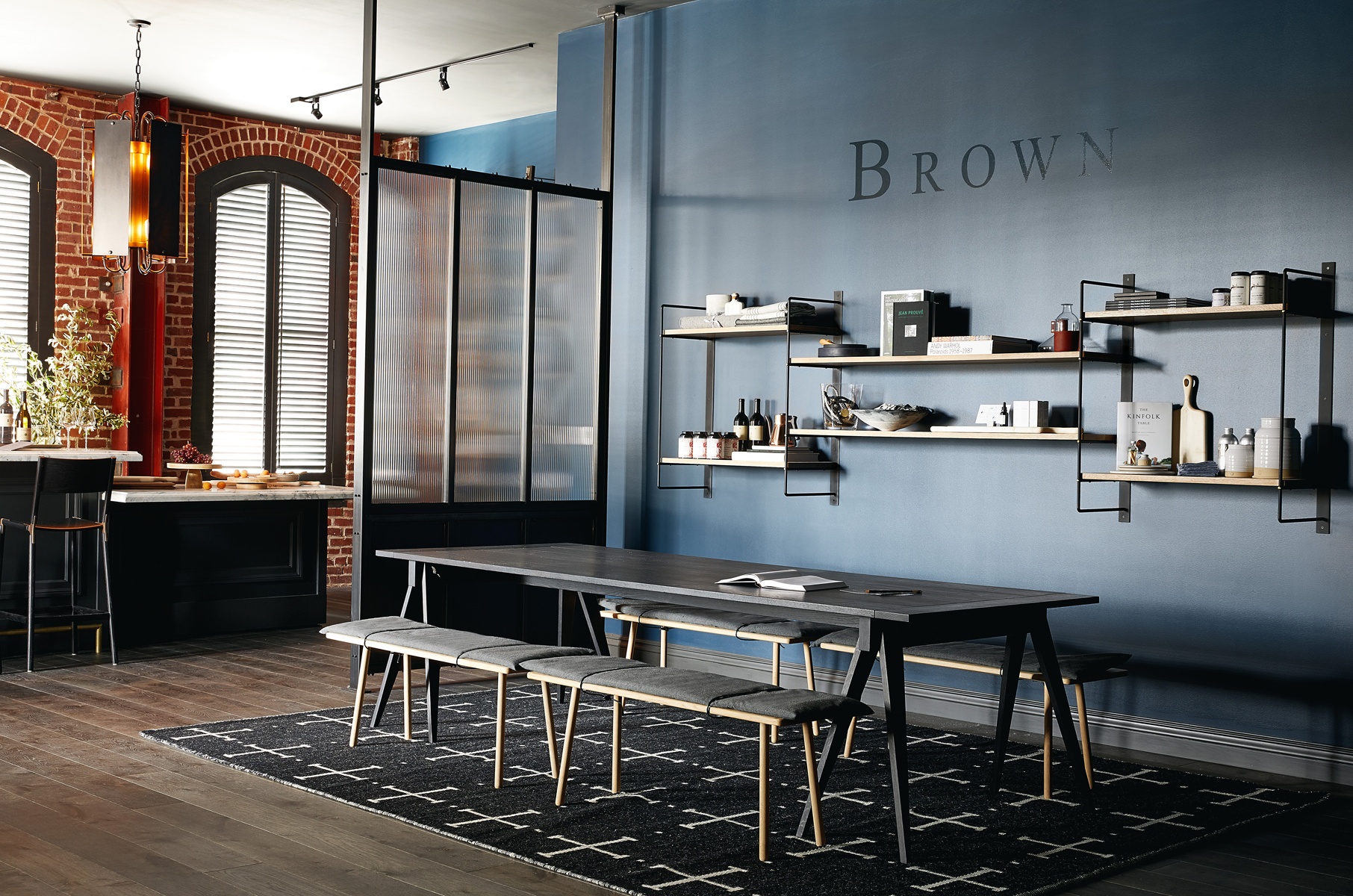 Photography by Aubrie Pick
The Brown Estate is poised for growth. In April of 2017, they opened a new location in downtown Napa. The tasting room, also known as Brown Downtown, is on the second floor of the old Napa Register building. While the building itself suffered some damage from the 2014 earthquake, the interior offered up an ideal opportunity to create a space with a moody, urban vibe which includes exposed brick walls and structural steel beams. Coral Brown, Director of Brand Management, says, "The new tasting room reflects our aesthetic and there are certain aspects that echo the Brown Estate Ranch buildings built in the early late 1800s – we love the history."
Coral's sister, Deneen, hired designer Catherine Kwong, who took advantage of the building's rustic elements by adding cold-rolled steel and fluted glass dividers in the open space. It is the perfect urban counterpart to their ranch estate. Coral explains, "The Downtown is sleeker and hip while the Estate is more rustic." The constant theme in both spaces is family – right down to a drawing, boldly featured in their new tasting room, sketched by their beloved Uncle Buntin. The overall experience can be described as a warm embrace.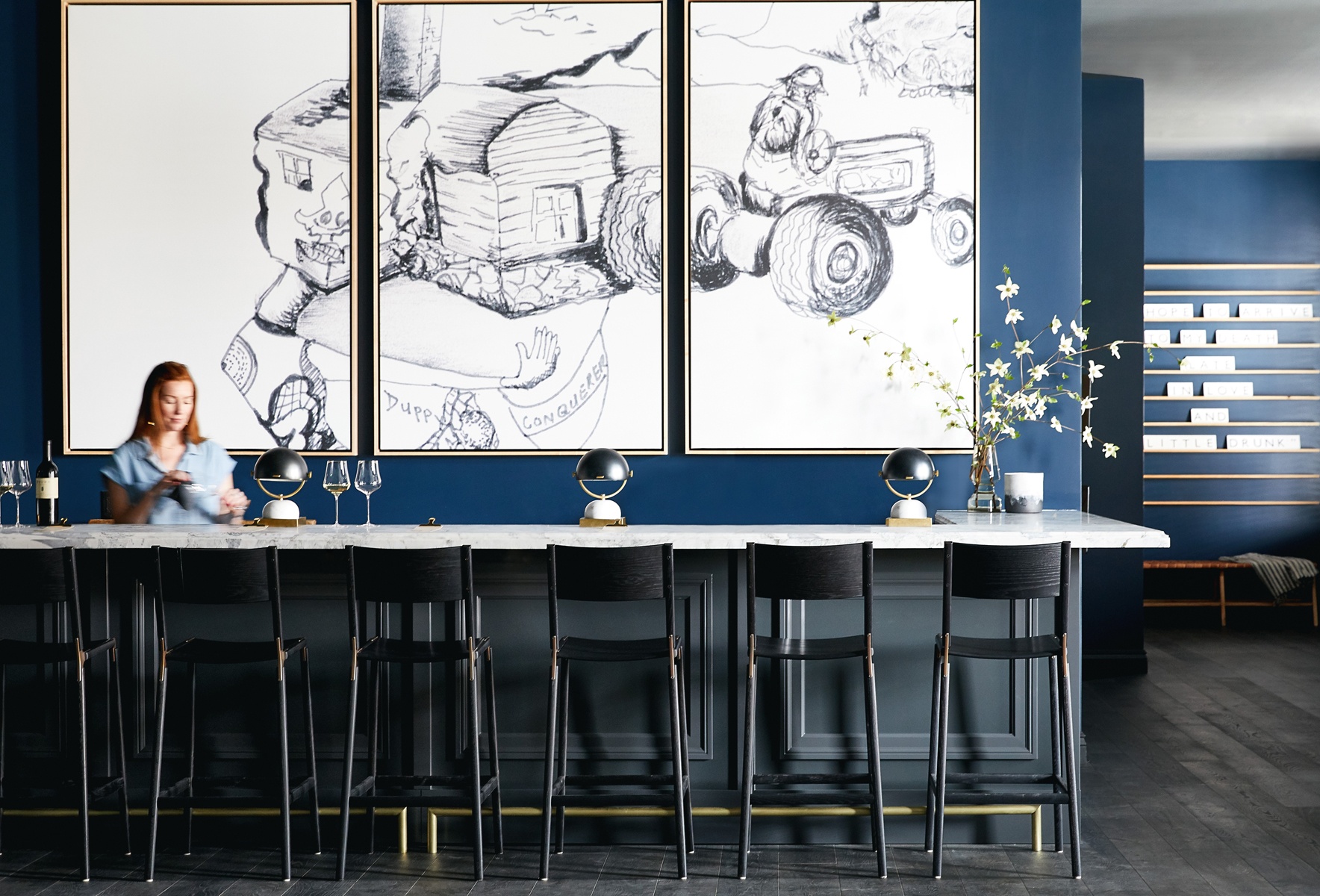 Photography by Aubrie Pick
Like most hospitality projects in a historic building of a downtown area, the Brown Estate Tasting Room project required careful planning and management. When offered the opportunity to work with Brown Estate, Nordby jumped at the chance. Tony says, "We were delighted to work with the family again and enjoy being a part of their continued growth." As a first step, an initial timeline and budget was drafted to provide The Brown Estate with a general idea as to the time and effort needed to meet the interior design requirements. Working together with Catherine Kwong, Napa Design Partners, we were able to provide a clear picture on design, schedule, permitting, and construction of the space. It is also key to have an owner make quick, cautiously thought-out decisions in order to keep the project on schedule. Tony says, "Coral and David understood the importance of the decision making process since they had been through it on the wine cave project. They handled everything with high importance, it was a real pleasure working with them and I'm looking forward to the next project."
From drawings to building permit application, it may take several weeks to many months to open a tasting room, depending the complexity of the project. This building required reconnecting the utilities, which were disconnected as a precautionary measure after the earthquake in 2015. There were several submittals that needed to be processed before technical documents were prepared for building permit application. It is important to never underestimate the areas that may impact the schedule. Permitting for tasting rooms in downtown Napa can be complicated. Tasting room projects require a building permit, health approvals, liquor licensing, approvals, and accessibility upgrades. Accessibility upgrades can be challenging in many of the older historic buildings due to uneven floors, narrow hallways, lack of elevators, small bathrooms, and heavy solid core wood doors.
Photography by Aubrie Pick
Ideally, the construction schedule should factor in time for staff training, operations testing and clean-up prior to opening to the public. There should be an additional cushion for possible hurdles. An ideal time should be between 2 to 3 weeks. Ultimately, the tenant needs Health Department, Fire Department, Planning, Sewer & Water and Building Department Final occupancy prior to opening. Fortunately, the schedule for the Brown Estate Tasting Room went off without a hitch. The project was on time and within budget. Of the construction process, Coral says, "A lot of effort went into the preparation and then planning. Construction went like clockwork. There were no unknowns and I had every confidence in Tony Simmons. He brings solutions - we'd work with Nordby again in a heartbeat."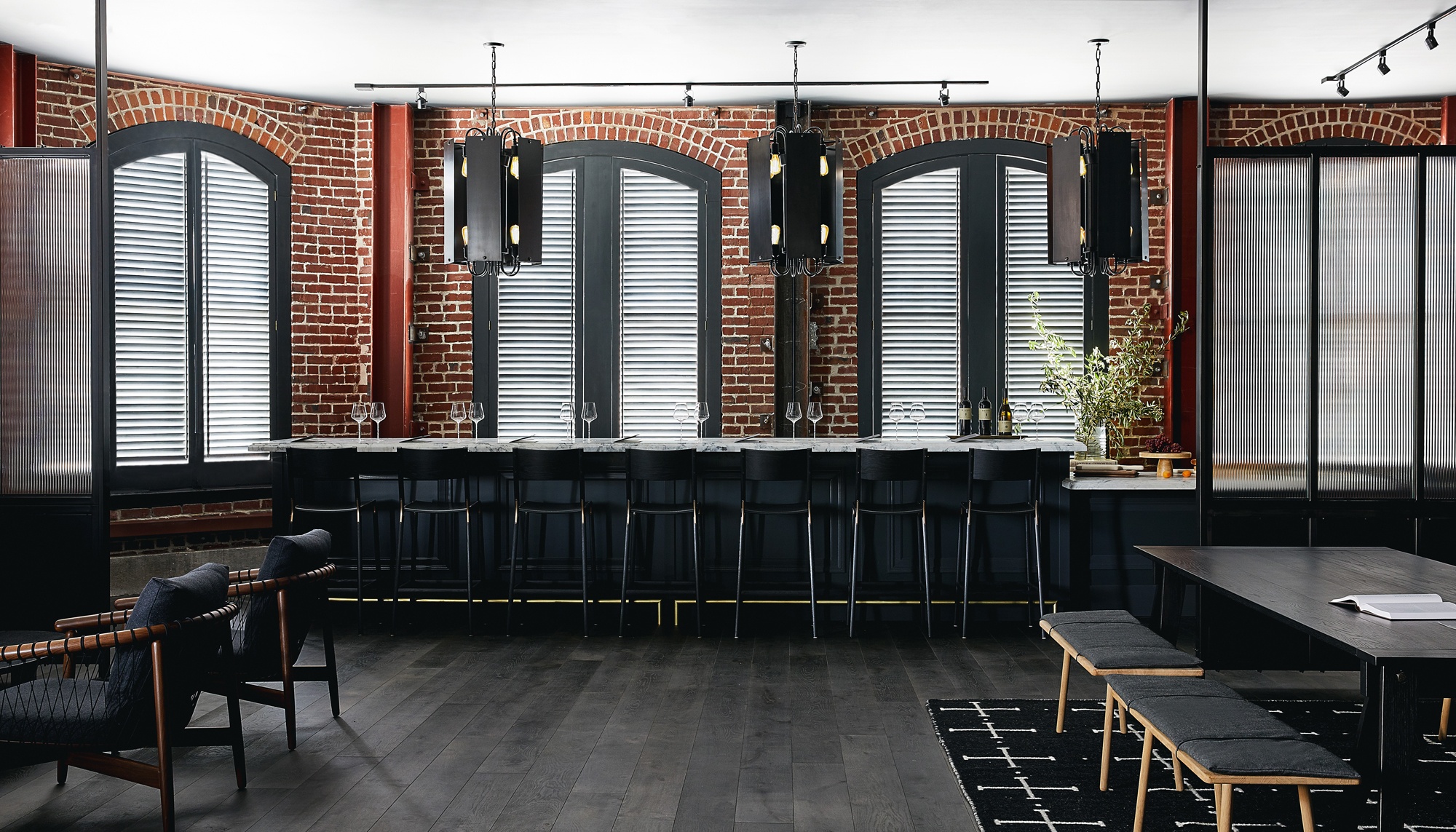 Photography by Aubrie Pick
Today, the Brown Estate Tasting room is enjoying their downtown Napa digs. It is a convenient location for their patrons, visitors, and employees alike. We encourage you to visit this intimate wine tasting experience. You can find Brown Downtown at 1005 Combs Street, 2nd Floor in Napa. Tastings are provided 7 days a week from 11:00 AM to 7:00PM. Appointments are recommended Monday through Friday and required Saturday and Sunday.
Did you enjoy this story? Do you have your own tasting room project story? Share your thoughts with us in the comments section below.